THE BRANCH THAT NEVER CLOSES!
One simple login. Use the same login to access Scottsdale Community Bank Online Banking or Mobile App. You can access any of your business and personal deposit or loan accounts with a personal computer, laptop, tablet or smartphone, or using our mobile app. Plus, you can have access to your accounts 24 hours a day, 7 days a week

Online & Mobile Banking
Manage your business and personal account when it's convenient for you - it's easy with online banking. Use any internet-enabled device to log in and manage your Scottsdale Community Bank accounts.
Easy to use

Available 24/7

Log in from anywhere

Securely encrypted

Check balances

Transfer funds

Get the latest account info

Get your monthly business and personal statements sooner and reduce the chance of identity theft by receiving them electronically. It's convenient, secure, and easy!
Easy online access 24/7

Receive monthly statements sooner

More secure than by mail

Reduce risk of identity theft

View any past statement with the click of a mouse

Saving paper means saving trees
To sign up for e-Statements, simply log in to online banking and click on E-docs tab at the top. Each month you'll receive an email notifying you when your account statement is available online.
If you are not already enrolled in online banking, please click here to get started.
Kiss checks, envelopes, and stamps goodbye! With Bill Pay, you can pay bills any time of the day or night, from any computer. It's quick, easy, and secure.
Pay and receive your bills securely, all in one place

Track your account balances and payment history quickly

Make automatic recurring payments

Receive helpful reminders when a bill is due
Best of all, it's easy to get started. To enroll, log in to your online account. Then click the "Bill Pay" link to access the enrollment form.
Zelle (Person to Person P2P) 
Did you know with Person to Person, you can use your mobile phone to send money to anyone. It's fast, easy, and secure. All you need is the person's email address or mobile number.
Here's how to get started:
Log in to your online banking account

Select the Bill Pay Prime tab

Select the Pay a Person tab

Choose to send money by email or text message
Click
here
to learn more!
Scottsdale Community Bank's mobile banking provides secure access to your accounts anytime, anywhere using your iPhone®, Android® or any web-based phone. And now, it includes Mobile Deposit Anywhere, a convenient, secure way to deposit checks into your eligible Scottsdale Community Bank accounts in a few simple steps.
A free, convenient service for our customers

Access real-time account information

Transfer funds between accounts

Pay bills

Find our locations

View check images on smart phones
You can get started today if you already have an online banking account with Scottsdale Community Bank. 

*You must download the app and have a valid Online Banking ID prior to using the Mobile Banking app.

Save yourself a trip to the bank! Mobile Deposit Anywhere allows Scottsdale Community Bank clients to conveniently make secure deposits anytime using their mobile device and our mobile banking app.
Depositing a check:
Log in to our app on your mobile device.

Tap the menu icon in the upper left corner and select "Remote Deposit".

The first time you use this service, you will be asked to review and accept the Mobile Deposit Anywhere Service Disclosure and Agreement before you can continue. Once you agree, your account will be submitted for review. Upon approval, you'll be able to use this service.

Select "Deposit a Check".

Next, enter the amount of your check, and choose the account to which the deposit is being made.

Tap the camera icon that reads "Take Pictures". Choose the top rectangle that reads "Front of Check". This activates your phone's camera. Take a picture of the front of the check.


Place the check, with the front side facing up, on a well-lit surface, free of any clutter.

Tip: You might find that you get a more accurate picture of your check if the color of the back ground is solid and contrasts your check.

Align the check within the guidelines, making sure the entire check is completely within the guidelines and there is nothing else in the image.

Take the picture. The image will be automatically cropped to fit the guidelines.

Verify that all of the information on the check is viewable and readable and tap "Done".

Select "Back of Check" and follow the same steps to capture an image of the back of the check.

When complete, tap "Save images and Submit Deposit". A confirmation message will appear.

Once you have verified that the deposit has cleared, you should destroy the check after 90 days.
MyCardRules is an easy-to-use mobile app that lets you set card controls, add restrictions and receive transaction alerts.
How does MyCardRules let me manage my cards?
Just download the MyCardRules app from Google Play™ or the App Store®. Then you can set a wide range of controls and alerts on all your cards. For example, you can:
Turn your card on or off

Set transaction spending limits based on your preferences, including dollar amount, transaction type and merchant type

Get instant alerts on certain types of transactions, like when a transaction is declined

Set a specific region where the card can be used or restrict usage based on your mobile device's location

Set parental controls and monitoring

Alerts will show up just like any other notifications you get on your mobile device.

Why is it a better way to manage my cards?
Because you can manage your card transactions all in one place, right from your mobile device. You have complete control of how, when, where — and WHO uses your cards.

Plus, knowing that you've set rules, restrictions and alerts that meet your specific spending preferences adds another layer of fraud detection and prevention, and gives you added peace of mind.

Is it secure?
Yes, managing your cards with MyCardRules is safe and secure. Your account is password protected and highly encrypted.

How do I get started?
After you download the MyCardRules app, select "New User" and then enter your card information to begin registration. You'll need to provide:
Card Number

Expiration Date

Security Code (usually on the back of your card)

Next, you'll create a username and password.

Once your account is created, you can log in and access the "Card Details" screen.
From this screen you can:
Turn card controls on/off

Set controls

Manage alert preferences

View recent transactions and more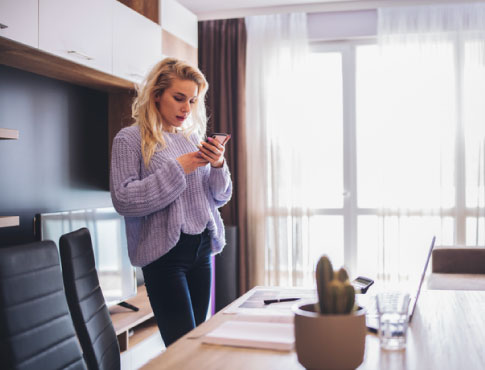 Have a question or need more information?
Contact us today and one of our representatives will get you the answers you need.