Small Business Administration (SBA) loans are designed to help small businesses, who don't have access to capital through conventional lending channels, obtain the financing they need to grow their businesses. Scottsdale Community Bank offers SBA's primary loan programs, SBA 7a and SBA 504 loans.
7a loans can be used for nearly any business-related financing need and offer fully amortizing terms of up to 25 years

504 loans are primarily for acquiring fixed assets such as real estate, machinery & equipment and offer fully amortizing terms of up to 25 years.
SBA loans are available for both start-ups and existing small businesses if they have been formed "for profit" and meet SBA's size and eligibility criteria. Loans can be used for a variety of business needs including purchasing, renovating or constructing a building, leasehold improvements, purchasing equipment, inventory, furniture & fixtures, refinancing debt, business acquisitions and working capital.

Generally, SBA loans offer longer repayment terms, require less money down and offer monthly payments that are lower than conventional financing terms.
SBA 7(a) Loans
Loan Amounts: From $100,000 to $5,000,000.

Loan Terms: Up to 25 years for buying or refinancing real estate. Up to 10 years for equipment and working capital.

Ideal For: Expanding your business or purchasing new commercial real estate, equipment, and working capital.
SBA 504 Loan
Loan Amounts: From $250,000 to up to $10,000,000.

Loan Terms: Up to 25 years for buying owner-occupied commercial real estate.

Ideal For: Purchasing owner-occupied commercial property.
Scottsdale Community Bank has a dedicated SBA lending staff with over 75 years of collective experience in originating and funding SBA loans. Your loan will be underwritten, approved, closed and funded by a team of experts in the intricacies of SBA lending. We will work with you from the application stage through the final funding of the loan enabling you to focus on your business while we take care of the details of the loan process.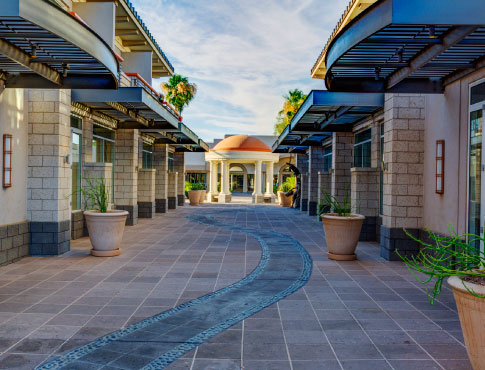 Come to our office and enjoy locally roasted coffee while you're here, or upon request, we'll bring our services to you.