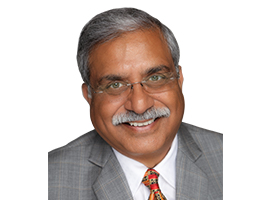 HEMANT PATEL
Vice Chair
Hemant Patel has a diverse background that adds strength to any business group. His business track record includes being the sole founder of a consulting engineering company that provides program management, planning, design and construction management for infrastructure projects, which Hemant built into a regional organization with offices located in five states, over a fifteen year period. In 2006, Hemant sold his firm to an international company in order to open doors to overseas markets for the firm's expertise. Prior to starting his own firm, Hemant's professional experience included an international construction company, a public agency responsible for water and wastewater services for a large region of the United Kingdom and private consulting firms, where he gained expertise in project controls and organizational management.
Hemant currently serves as Founder and CEO of Akida LLC an energy management technology firm. He managed a technical team that developed patented technology in electrical energy management. Hemant led the team to develop applications of the technology to create IOT ready hardware that provides "Big-Data" to Cloud-based platforms for energy monitoring and management.
Born in Kenya, Hemant experienced first-hand the opportunities and hardships in a "third-world economy". He also spent nearly a decade in the UK where he received his Bachelor of Science with Honors from the University of Birmingham, England in Civil Engineering in 1979. He then immigrated to the United States to pursue his dreams of success. While building his career and starting a company, Hemant attended night classes at Arizona State University to earn his MBA in 1993.
Hemant is committed to his community and has served in many civic roles. He currently serves on the Flood Control District Advisory Board for Maricopa County and the Board of Trustees for BEMA, a non-profit organization that built a unique temple, which serves many different faiths in the East Indian community. Hemant and his wife, Vinta, are proud parents of two daughters, who are college graduates and pursuing their professional careers outside Arizona.
Hemant and his wife, live in Paradise Valley and with family living all over the country and the world, they travel extensively to maintain the close family bonds that they treasure. He also travels extensively to pursue global opportunities for his technology firm. In addition to traveling, Hemant enjoys spending time with his family and their very spoiled family pets, hiking and, as an avid car enthusiast, any automobile-related activity he can partake in.
---