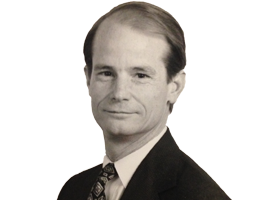 BLAIR K. ROBINSON
Director
Blair Robinson retired in 2018 after 42 years in commercial banking in the Chicagoland area and has moved to Scottsdale on a permanent basis. He was born in Tucson, Arizona and attended Northern Arizona University where he earned a Bachelor of Science degree in Business. He received an MBA from Lake Forest Graduate School of Management in 1983.
Blair began his banking career in 1976 at the Bank of Northfield in Northfield, Illinois. By 1984 he was promoted to Senior Vice President of Operations and Chief Lending Officer. In 1986 he became President and Director of the Bank of Glenbrook in Glenview, Illinois.
In late 1992 Blair became the Founding Director of Northview Financial Corporation the holding company for a de Novo bank Northview Bank & Trust in Northfield. As Founding Director, he organized the Board of Directors and key employees for both the holding company and the bank. Blair completed the required regulatory applications and successfully raised capital to obtain a charter from the State of Illinois Commissioner of Banks and for final approval by the FDIC.
As President and Director of the holding company and President & CEO and Director of the bank, Blair was responsible for overall bank performance and was the Chairman of the Loan, Asset Liability Management, Compliance, Audit, Executive, Strategic Planning and Compensation committees.
In 2004 the bank had grown to 4 locations and about $500 million in assets and was acquired by Wintrust Financial Corporation. Original investors in the bank realized an average annual return on their investment of over 17%.
After the sale of the bank Blair continued his banking career as a Director and President & CEO of Northview Bank & Trust and became Director and Vice Chairman of Northbrook Bank and Trust, a Wintrust Financial Corporation affiliate.
In 2013 Blair joined American Chartered Bank, now MB Financial Bank as a Senior Commercial Lending Officer where he worked until his retirement late this year.
During his career Blair was active in the community as a Commissioner of the Village of Northfield Park District and served on the Village of Northfield Board of Trustees where he was the Finance Committee Chairman. In addition Blair served as Vice President of the Village of Northfield Chamber of Commerce and served numerous other local organizations. He was also a member of the Chicago Bankers Association.
---