BANKING SPECIALISTS FOR NON-PROFIT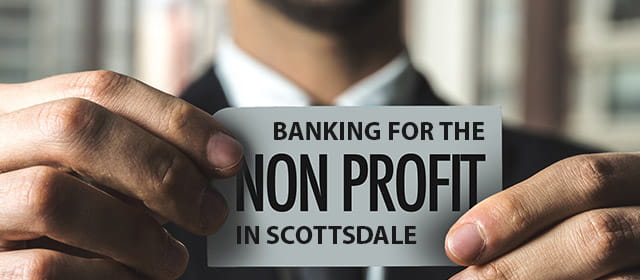 Many banks advertise products for non-profits, but not many truly understand the needs of those organizations. At Scottsdale Community Bank (in organization), all members of our Board of Directors are personally involved in the "non-profit world". Many serve on boards while others work directly for the groups they represent.
Scottsdale Community Bank (in organization) is committed to enriching the lives of individuals in our communities through supporting and working with local non-profit organizations.
We will provide custom solutions and tailored services designed to address the unique needs of non-profits in cost-effective ways. It is central to our core principles to work to enrich businesses within our local region, and so we choose to work with non-profits committed to building strong community.
If you are looking for a financial partner to help your non-profit navigate the options available to your organization, you'll be pleased to meet experienced bankers committed to long-term relationships. Discover how strategic consultation and financial planning can improve your organization's financial strengths.
Scottsdale Community Bank (in organization) will work with the full spectrum of non-profit organizations including:
Educational, environmental and scientific organizations
Religious groups
Health and human service providers including children's organizations
Cultural and artistic institutions
Membership groups such as fraternal organizations and homeowners associations
Family foundations
---
GO TO BANKING SERVICES: PERSONAL | FAMILY BUSINESS | SMALL BUSINESS