We are proud to announce a new bank we are organizing in the center business core of Scottsdale. Scottsdale Community Bank (in organization) will be the first community bank opened in Arizona in 13 years. But that may change rapidly, because right now is one of the best times in recent history to open a bank. Our directors have been quietly working on this worthwhile venture for several years, and the timing to bring it to fruition is now.
The Arizona Department of Financial Institutions has approved our status as "in organization" which authorizes us to raise capital by selling shares in this vibrant enterprise. Additionally, the Federal Deposit Insurance Corporation (FDIC) has granted SCB "conditional approval" to open. We hope you will consider joining us in investing in this unique opportunity that we have carefully and thoroughly planned to be a win-win for both the shareholder and our community.
Some major points about our vision and goals include:
We will establish a bank that is known for its service, its people, its relationship lending, and the value it brings to its shareholders.
It will focus on loans to small and medium size businesses in the dynamic Scottsdale, Paradise Valley, and Phoenix area; and, it will specialize in family-owned businesses.
We will provide innovative, cutting edge financial services utilizing the newest technologies while maintaining integrity, hard work ethics and traditional values.
We will have a local commitment and global vision.
Our accomplished Directors have successful experience in banking, entrepreneurship, accountability, and many of the industries that are targeted in our market area, plus deep roots in our community.
Our Directors, who are all shareholders themselves, especially appreciate the efforts that shareholders make to participate in a new enterprise.
Risk management will be integrated in every aspect of our operations.
Our shareholders will have the opportunity to serve on the bank's unique Advisory Council.
So, please view our PDF investor presentation to learn more. We encourage you to seek advice from your attorney, accountant, financial advisor, family and friends, or anyone else you'd like. And, we always welcome your questions and comments.
If you are interested, the next step is to request our Offering Circular, Investor Questionnaire and Subscription Agreement from one of our Board Directors. Just email the Chair of the Board or give him a call Toll Free at 844-722-2654, and we will ensure it gets into your hands for your thorough review.
We are truly proud of this exciting enterprise to which many of us have already put years of work in preparation for that vital right time. I hope you will join us in this meaningful venture that will be rewarding for our shareholders and the economic vitality of our state and our community.
---

Investor Presentation Deck (2180 KB)
View Investor Presentation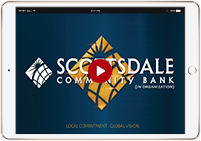 Investor Presentation Deck (2180 KB)
For More Information
If you would like to get more information on investing in Scottsdale Community Bank (in organization), you may contact the Chair of the Board.
Toll Free: 844-722-2654
Email: gweisz@scbaz.com
Disclaimer
This announcement is neither an offer to sell nor a solicitation of an offer to buy the common stock or any other securities of the proposed bank. Such offer may be made only by the offering circular. Shares of the proposed bank's common stock and any other security of such bank are NOT insured nor approved by the FDIC or any other federal or state regulatory agency.
---